Students across India & Dubai enrolled in 2023-24 batch till today (Total Available Seats: 20000)
UT test series in completely focused on CBSE and ICSE board syllabus. All papers are set by subject experts as per board  pattern
After every test students are given model answers which consist of answers to all the questions as per board pattern and marks are allotted as per board marking scheme
All answers sheets are corrected by subject experts as per paper correction norms set by respective boards and a feedback is given to the students
We want you to appear for all the tests. We keep students and parents informed through sms, email and website student portal
1. Write Tests - Board pattern question papers (Flexible schedule)
2. Board pattern model answers after every test
3. Answer sheet correction by experienced teachers (from boards)
4. Performance reporting to students and parents
5. Attendance monitoring
6. Regular follow-ups
*Extra: Free access to all UT webinars on various careers
1. Get login credentials of UT's testing website (UTUDAAN) after enrollment.
2. All chapter-wise tests (question papers) are kept available on website at a time, but mock tests will be released as per schedule.
3. All tests are pen and paper based.
4. Student will have flexibility to write tests as per their own convenience. (but, every test have time limit)
4. After completing the test, student is supposed to take photos of answer sheet and upload to website within allotted time.
5. We receive digital copy of answer sheet which is corrected by teacher.
6. Student can download the model answer from website in 24 hrs of submitting the test
7. Corrected answer sheet is usually available in 3-6 days of time
8. Answer sheet can be sent for recheck, if required.
9. Parents and students are informed of the test performance through sms and website student portal.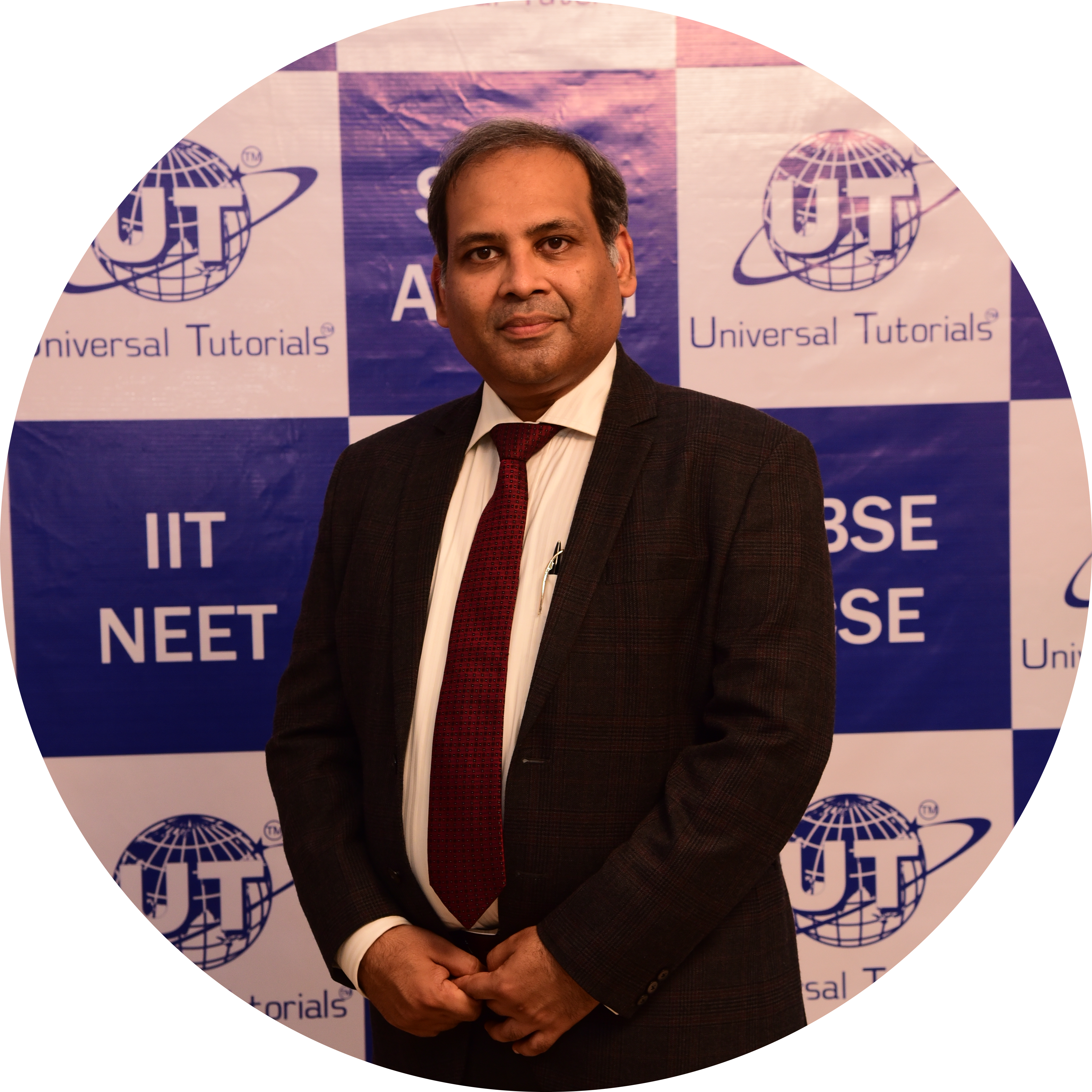 "The influence of a good teacher can never be erased"
Dear All,
Education is the way to growth through unlimited learning.
It is with this reason I quit my corporate job as an Executive assistant to the present chairman of Reliance Industries, Shri Mukesh Ambani and founded Universal Tutorials on 14th December 1998.
Universal Tutorials(UT) has come a long way traversing a remarkable journey since its inception. In last 24 years, UT has successfully broadened its educational services in three broad sections – CBSE/ICSE boards; IIT/NEET/Olympiads entrance; Study Abroad; IPM. We are a proud institute today which has coached more than 35,000 students and produced students with exemplary results year after year. In our constant efforts to bring quality contemporary education we have been creating and maintaining the best faculty talent pool and are investing wisely into strengthening our programs with the use of modern technological tools.
UT is proud of its distinguished alumni and determined to support the parents in the making of each child's future.
I welcome you to an enriching experience with UT.
Ⓒ 2021 - All Rights Are Reserved by Universal Tutorials Pvt. Ltd.